Looking Back at Our First Ever Virtual Concluding Institute 2020
Written by Daniel Robles
i3 blinks later: it's already the end of September, and Scholars have been working diligently to submit their research for publication. We can't believe Concluding Institute ended two months ago! To celebrate this milestone, let's take a look back at our first ever virtual Concluding Institute.
Two months ago Scholars were just finishing up the last week of Concluding Institute. Not only did our scholars manage to wrap up their projects and deliver incredible presentations, but we also had the pleasure of welcoming back many i3 alumni and special guests for spectacular professional development and information sessions. Without further ado, here's a peak at all the action that took place during our closing week of the 2020 i3 Concluding Institute.
Our final week launched with a double feature spread. The first was a professional development session led by Ricky Holtz (i3 2013) and Jeremiah Azurin (i3 2016). Together they discussed building portfolios in a way that captures your beliefs, skills, qualifications, education, training, experience, personality, and work ethic seamlessly wrapped in one package – essentially creating your own brand. They shared their own experiences with building portfolios and emphasized the importance of seeking and receiving feedback in order to further develop your own branding.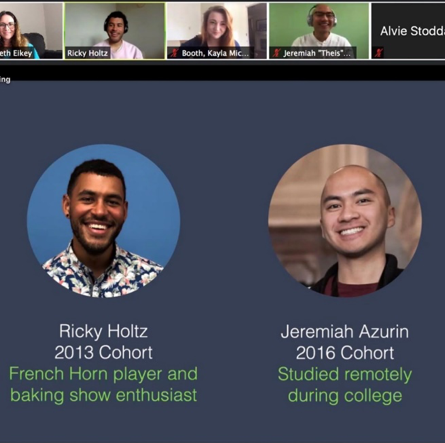 Later that day we welcomed Dr. Jenna Burrell and Shelly Kim, Associate Professor and Associate Director of Admissions at UC Berkeley's School of Information, respectively, to share the details of i3's new partnership with them! We are so grateful to be able to welcome UC Berkeley into the i3 family and inexplicably excited for the opportunity that this creates for all i3 scholars.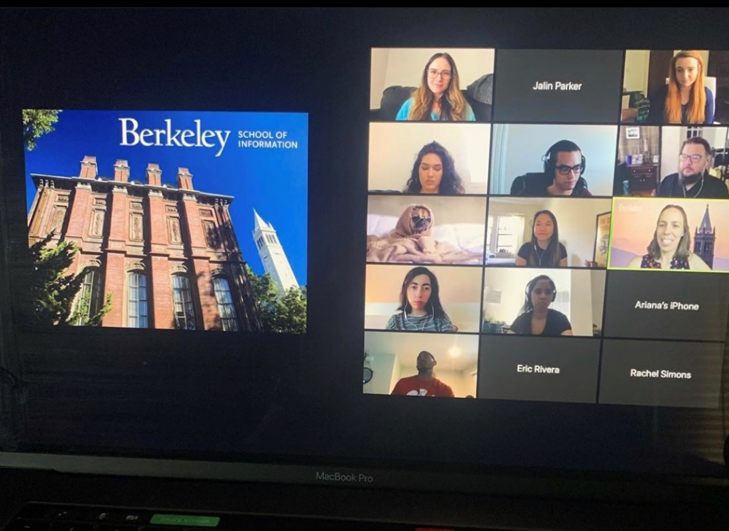 The next day we hosted a group of alumni who graciously offered their time to create a panel on demystifying industry career paths in the information sciences. The panel featured the following 5 members of our i3 family.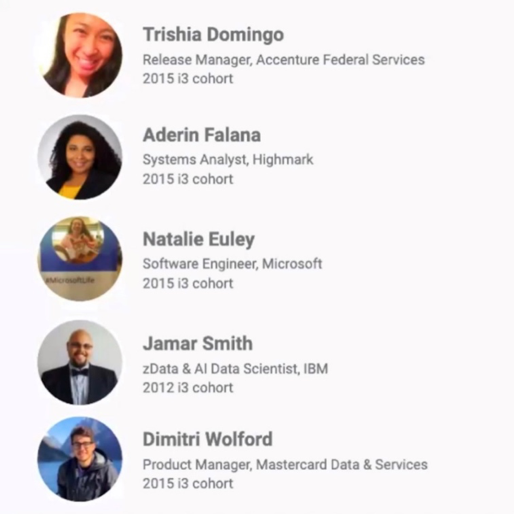 Highly requested by our 2019 cohort, this session opened up with a discussion on how job descriptions are often confusing and how students can navigate these various titles and descriptions. Each of our panelists shared their journey post-undergraduate education and explained their roles in their current positions, what their average work day looks like, and the academic background and skills needed to pursue the positions they have. As evidenced by the amount of questions and engagement throughout their presentation, this session was a valuable resource for scholars on. and soon-to-be on the job market.
Mid-week marked our last day of workshops before final presentations by our 2019 research teams. One of our team research advisors, Dr. Cristina Robles Bahm, led us through our last professional development session on navigating the power dynamics of negotiation. As Dr. Robles Bahm explained through clever analogies and visualization, negotiation is a key part of life, not just in one's career path. From talking about salary to deciding what projects you'll be assigned to figuring out where to live, negotiation skills are key considering how the results of these negotiations can have direct impacts on lives. By sharing a breakdown of power dynamics, their role in negotiations, and the importance of timing, Dr. Cristina Robles Bahm provided our scholars with information on how to navigate negotiations effectively.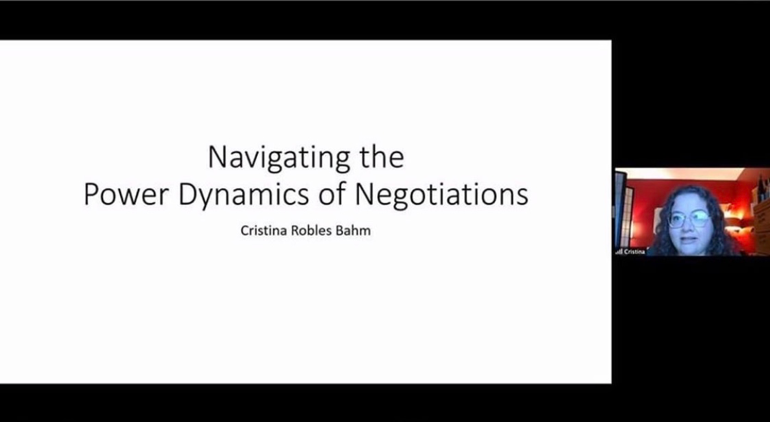 FINAL PRESENTATIONS
The remaining two days of Concluding Institute were all about final presentations. For the last year, our 2019 scholars have been working diligently on their projects. While all of our i3 scholars are well versed in working in geographically distributed teams, the 2019 cohort faced a year unlike any other with the pandemic and social revolution around the Black Lives Matter movement. Yet even in these unprecedented times, our scholars managed to complete their projects and deliver some of the most extraordinary presentations we have seen. Here is the breakdown:
The Phantom Five (advised by Dr. Brooke Auxier)
With the seemingly endless rise in social media and its effect on users, the use and abandonment of social media is something that needs to be explored in order to leverage what makes these platforms helpful and reduce negative consequences. This team dedicated their research project to exploring why millennial women abandon Snapchat. They presented their pilot data and lessons learned about engaging in rigorous, ethical research. We look forward to their next steps!
The PeaceSquad/PerseveranceSquad (advised by Dr. Cristina Robles Bahm)
Before COVID-19, this team sought to conduct research on the relationship between homelessness and the resources used in the fight against it. However, once the global pandemic ensued, everything changed. Understanding the context of their research, this team modified their approach to consider not only the way in which they collect their data but also the effects of the pandemic among people experiencing homelessness and near-homelessness. Despite the obstacles, they pushed through – so much so that they changed their team name from PeaceSquad to PerseveranceSquad! Their final presentation was on the information seeking behaviors of individuals dealing with homelessness and near-homelessness.
The GameChangers (advised by Dan Gardner)
Given the popularity of video games and the impact they can have on people, understanding people's perceptions of race representation matters. This team focused on one understudied element of video games: their covers, and they presented the results of not one but two surveys. After the analysis of data from their first survey yielded more questions, they developed another survey to provide more details. Through this work, they emphasized the importance of this kind of research for the gaming community and the need for more diversity in gaming.
Team QTPIs (advised by Juan Fernando Maestre)
Team QTPIs conducted an interview-based study across multiple universities to understand how Queer People of Color (QPoC) use information communication technologies (ICTs) to cope with stigma. Their presentation amplified the voices of their participants and showcased the different types of online and offline stigma QPoC face and the ways in which ICTs are used in response to those experiences. This research highlighted a great lack of representation of QPoC in research and left us with a call to action – for research, for higher education institutions, and for each of us personally. This project truly embodies everything research should be.
Team Kathleen (advised by Dr. Kathleen Moore)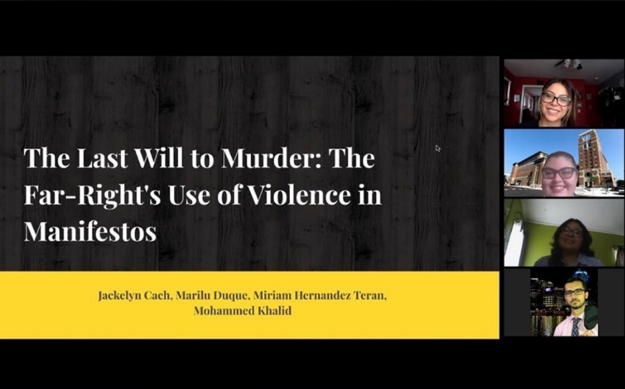 Many i3 projects tackle difficult topics. We encourage students to conduct research to solve problems in spaces they're passionate about and do work that motivates them to effect change. Team Kathleen, was no exception. Through a mixed methods analysis, including both machine learning techniques and a qualitative analysis, they explored commonalities in the far right's manifestos linked to violent acts. In addition to emphasizing how the complementary nature of their methodology helped inform the base ideologies within these manifestos, they also shared strategies for promoting positive mental health and well-being when working in a particularly challenging area.
Team Tech4All (advised by Dr. Martez Mott)
Their team name just about sums it up! Team Tech4All conducted research on how to support students with cognitive disabilities to ensure equal access to eLearning platform content. Before the pandemic, their approach was to observe students using eLearning platforms. However, when in-person data collection was no longer possible due to the risk of COVID-19, this team pivoted beautifully to focus on assessing the content of popular eLearning platforms as a first step until in-person research can resume. They developed a framework based on prior literature and utilized this framework to evaluate web content on eLearning platforms and provided recommendations to make these sites more accessible for students with cognitive disabilities. This project advocates for more inclusive design and emphasizes the need to design for all.
CLOSING CEREMONY
As is tradition, Concluding Institute wrapped up with a closing ceremony to celebrate scholars' achievements. While we usually hold this event in person, this was our first ever virtual closing ceremony. We are so immensely proud of our scholars' yearlong research and for taking on the challenge of completing a remote Concluding Institute during a global pandemic. The number of obstacles this cohort faced could never have been anticipated, but they persevered. Our closing ceremony highlighted all they have accomplished with awards for our scholars, their teams, and their research advisors. Although this ceremony was intended to recognize them, they acknowledged i3 leadership by coordinating thoughtful Zoom backgrounds. They inspire each and every one of us, and we are so luck they are part of the i3 family!
Stay tuned for more information as Scholars continue on their journeys!